Totem Pole {The story … an important event}
Think … How addictive social media are nowadays … we tend to catch ourselves scrolling millions and trillions of nameless posts, images, names … in search for something special … but what we actually "gain"… is the lack of recall … galleries of silly names … eye-mixing images … brain-emptying processes of never-ending searches … the totem pole {Gyáa'aang in the Haida language} of social imagery… oftentimes of a pretty bad quality… begging for removal … 
We are all visual creatures that are searching for something special … something meaningful … the "jena se qua" of life …
Visual communication in business environment is extremely powerful and provides the multitude of advantages of high quality visual content, some of the key benefits are
1 | The improvement of comprehension and retention of information
Visuals have been found to improve learning by up to 400%. Also, they affect learners on a cognitive level and stimulate imagination, therefore enabling users to process the information faster. Stanford University's Robert E. Horn, explained this relationship clearly "When words and visual elements are closely entwined, we create something new and we augment our communal intelligence … visual language has the potential for increasing 'human bandwidth'—the capacity to take in, comprehend, and more efficiently synthetise large amounts of new information" |
2 | The anamnesis (the remembrance) in long-term memory
Both the short-term and long-term memory store information in chunks, but the former is limited. One of the easiest ways to ensure that learners store information in their long-term memory is to pair concepts with meaningful images. Research has found that this tactic increases recall better than when courses deliver information through aural or textual form. Visuals help people make sense out of the content and direct attention, increasing the possibilities what the learners will remember | 

3 | The speed of transmission of visual messages that is faster than wordings
According to the Visual Teaching Alliance:
• The brain can see images that last for just 13 milliseconds.
• Our eyes can register 36,000 visual messages per hour.
• We can get the sense of a visual scene in less than 1/10 of a second.
• 90% of information transmitted to the brain is visual.
• Visuals are processed 60,000X faster in the brain than text.
• 40 percent of nerve fibres are linked to the retina.
All this indicates human beings process visual information more efficiently than text.
4 | The motivation of learners
Around 40 percent of learners respond better to visual information than text alone | Simply seeing a picture allows users to recreate the experience in their mind | 
5| The trigger of emotions
Visuals cause a faster and stronger reaction than words. They help users engage with the content, and such emotional reactions influence information retention. This is because the visual memory is encoded in the medial temporal lobe of the brain, the same place where emotions are processed. The brain is set up in a way that visual stimuli and emotional response is easily linked, and together the two form memories. Negative visual depictions (pictures) are particularly useful for leaving a strong emotional impression |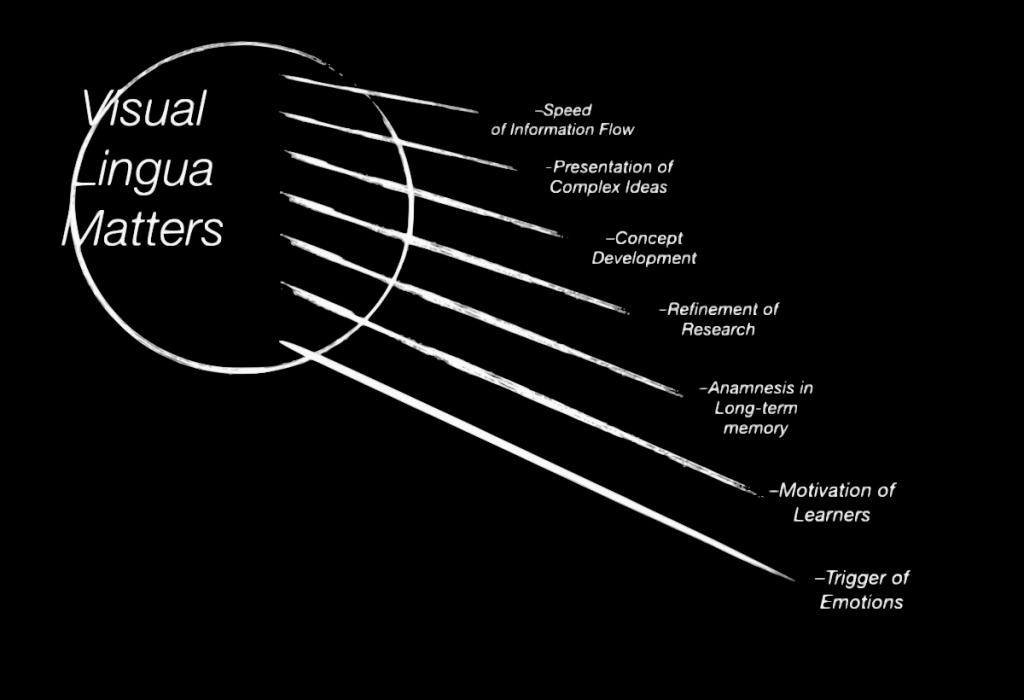 Furthermore, the visual communication impact increases over time.
One study conducted by Joyce and Showers (1981) found that after 3 days, a user retained only 10-20% of written or spoken information but almost 65% of visual information | 
The researchers behind "The Power of Sensory Marketing in Advertising," Krishna, Cian and Sokolova, a paper created in 2016, say that sensory marketing has a relationship with another emerging field called "embodied cognition" which supposes that "feeling guides thinking."
Communication in online environment | 
From consumers perspectives … social media scrolling might be just a boredom killer or an anger pill …
From brands perspectives … it might be just the right time… the right place… and the right occasion to create the meaningful connections with consumers…
As globalisation of the modern marketplace and rapidly changing circumstances in social media communication are promising for many brands as they illustrate a great pot of opportunities, they also mark an uncertainty of the future…. Why?
An overwhelming amount of competition … it is the global village where branding is the differentiator … and as we all know business is about business …. It is about helping businesses to succeed … the better you can articulate your branding proposition … the more successful you can be |
Design is critically important to enhance competitiveness … it is the future of differentiating | Making sure that prior to launching your brand to the world you have the right tools to communicate in the most appropriate way … this is the key prerequisite to the success |
CVI is the salient salesperson … and the symbol-notion of information |{A A Drzewiecka}
Brand creation + Brand Strategy + Brand Long-term Positioning  {

get in touch

get in touch

} | 
Recommended Reads |
1 | Corrigan JR, Alhabash S, Rousu M, Cash SB (2018)Corrigan JR, Alhabash S, Rousu M, Cash SB (2018) How much is social media worth? Estimating the value of Facebook by paying users to stop using it. PLoS ONE 13(12): e0207101| 
2| McLuhan, M. , Powers, B.R. (1992)McLuhan, M. , Powers, B.R. (1992) The Global Village : Transformations in World Life and Media in the 21st Century | 
3 | Krishna, A., Cian, L. & Sokolova, T. (2016)Krishna, A., Cian, L. & Sokolova, T. (2016) The power of sensory marketing in advertising |